01/31/2017 1:07 PM
-
By: Angelina Berube
Manchester Monarchs forward, Derek Arnold, never seems to be short of a cheering section in the crowd.
The Arnold family is from Foxboro, Mass, but their second home is SNHU Arena, where they proudly show their support for the one wearing number 14.
During his time at UMass-Lowell, Arnold said his family only missed a total of five games his entire collegiate career. Now in Manchester, they make it out to a game almost once a weekend.
"Even when they're not here, honestly, they're watching at home," Arnold said. "They always have eyes on the game no matter what."
Being so close to home, his 91-year-old grandmother also got the chance this season to attend her first professional game to watch her grandson.
"She's my only grandparent I have left, so it was awesome to have her come," Arnold said. "Unfortunately I couldn't score for her, but we still got the win."
Arnold has spent most of his hockey career in New England, and his hockey roots and love of the game come from his father. Peter Arnold, who played at Boston College, always had a Boston Bruins or college hockey game on the TV and put
Derek on a pond at a young age. The younger Arnold started in a youth program in Taunton, Mass., before playing for the South Shore Kings until high school. He still remembers tournaments in Toronto and Lake Placid and how his parents were with him every step of the way, traveling with the teams and making sure he enjoyed the sport and had fun.
"My parents were very supportive and I wouldn't be here today without them," Arnold said. "It's funny to look back on it and realize how much money, time and effort they put in to letting me have fun, because that's really what it was all about at that age. I'm very thankful and appreciative, realizing it now at an older age what they sacrificed for their kids."
Instead of going the prep school route, Arnold chose the junior hockey and spent his first season with the local Boston Jr. Bruins of the EJHL. Arnold grew up around the rinks of the EJHL, with his dad having coached the Walpole Stars, and decided the local team would be his best introduction into juniors.
The following two seasons, Arnold played for the Waterloo Black Hawks of the USHL, netting 20 goals each season. In 111 games for the Black Hawks, Arnold registered 91 points. His three years of junior hockey helped him improve his game against players older than him, and helped pave the way for his next four years at UMass-Lowell.
"It prepared me well for the next step of hockey because I was a 15-year-old playing against 21-year-olds," Arnold said. "You don't get that in prep school."
Arnold knew he wanted his collegiate career to be at a Hockey East school. He grew up watching college hockey with his family, and at 15 years old, he committed to the University of Maine when he first began junior hockey. Weighing his options with the support of his family, Arnold realized he wanted to look at other schools before fully deciding to become a Black Bear.
"I was too young to be making those decisions at that time," Arnold said. "Going into my second year at Waterloo, I called the coach at Maine and told him how I was feeling. He understood I was young and didn't necessarily make the wrong decision, but wanted to see what else was out there."
Colorado College and the University of Minnesota-Duluth were now in the equation, but ultimately, his desire to play close to home for an up-and-coming UMass-Lowell program won out.
"When I committed to Lowell, you could just see the program at the school was on the rise," Arnold said. "My freshman year, I kind of regretted the decision to come to Lowell. After five wins, it was a very tough year and I tried to forget about it. Then we had a new coach and the rest was history."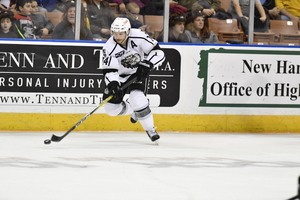 After a bumpy start, Arnold and his team at UMass-Lowell began their road to school history, with the Arnold family as some of the team's biggest cheerleaders. Missing only a handful of games in four seasons, Arnold's parents also traveled to Michigan and Pittsburgh for games.
"I'm very fortunate and lucky to have had them there every night," Arnold said.
His family was there to see Arnold play a vital role in the franchise's first Hockey East Championship in 2013. After netting the game-winning-goal against Maine and having won the night before against Providence, Arnold's uncle bought a suite for the championship game against Boston University. The suite was filled with family and friends, including Arnold's two grandmothers.
Arnold scored the lone goal against the Terriers halfway through the third period to give Lowell their first Hockey East title in school history.
"To be able to win that game and be a big part of that game was a special moment," Arnold said. "It was cool looking up after that game and seeing the box. To come out afterwards with the trophy and see all of them, it was a cool moment. "
UMass-Lowell went on to win back-to-back titles. Arnold finished his college career with 98 points, two Hockey East championships, two regular season champion titles and a Frozen Four appearance.
After college, Arnold moved as far as he has ever been from his family to pursue his professional career. He signed with Lillehammer, a team in Norway, for the 2013-14 season. He played 45 games with the team, collecting 45 points while also traveling through Europe with his girlfriend and dog. Arnold enjoyed his decision to go overseas, but knew he wanted to return to the states.
"When I played my first year of pros out in Norway, I was definitely homesick," Arnold said. "Being able to come back to the States and be so close (to my family), is something I never take for granted.
"At the end of the day, I wanted to be back in the U.S. and close to my family, but to still be able to play the game I love for a living," Arnold said. "When Manchester was an option after coming back from Norway, it was a no-brainer, and when it came time to make a decision for this season, there was no question where I would sign in the ECHL. The city is great. The program is first class. There are no negatives here."
In his first year with the team during the 2015-16 season, Arnold registered 30 points on 16 goals and 14 assists in 42 games, while earning several call-ups to the AHL. So far in his second season with the Monarchs, the alternate captain has contributed 33 points on 10 goals and 23 assists, including three power-play goals.
Being so close to his alma mater, Arnold has seen extended family from the college's community as well as his nuclear family. After a game this season, he caught up with a teacher and avid fan who continues to follow his professional career.
"It was cool to be able to connect with them, that they remembered all the success and moments we had when I was at school," Arnold said. "People still remember the success and it is cool to see a Lowell jersey at SNHU Arena every now and then.
"You think that once you leave school people forget about you and the legacy that your class left is over and done," Arnold said. "But we had a lot of success there and a lot of firsts like first Hockey East Championships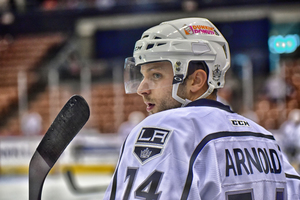 and making the Frozen Four. I think that stuck with a lot of people."
That extended family also includes the Monarchs faithful, who Arnold and the rest of the team have grown to know and appreciate for the dedication they have displayed to the hockey club.
"Win, lose or draw, the fans always have your back," Arnold said. "You see that at our team events, especially booster club dinners. It's good to connect with them. They put a lot of effort into being part of the team. We really do appreciate all their help on and off the ice."
Arnold hopes to have continued success for the remainder of the season while personally growing his game to be more consistent. His parents always preached to enjoy the game and have fun while pursuing his dreams, and that hasn't worn off. The forward says that combining a high level of energy in practices and games and remembering to have fun lets everything else, like wins and scoring, fall into place.
As the Monarchs sit atop the North Division and in a tie for the lead in the Eastern Conference, the Arnold family will no doubt be along for the journey in the quest for the Kelly Cup. They've seen college championships and their son create many memories at Lowell, but their focus has turned to winning an ECHL title in Manchester.
"It takes a lot of time, effort and time sitting in traffic on their part to get here and see a game," Arnold said. "I'm very grateful to have them here. I wouldn't be here today without them and their love and support."
|
Back to index...
Browse by Year »
2018
2017
2016
2015
2014
2013
Browse by Month »
May 2018
April 2018
March 2018
February 2018
January 2018
December 2017
November 2017
October 2017
September 2017
August 2017
July 2017
June 2017
May 2017
April 2017
March 2017
February 2017
January 2017
December 2016
November 2016
October 2016
September 2016
August 2016
July 2016
June 2016
May 2016
April 2016
March 2016
February 2016
January 2016
December 2015
November 2015
October 2015
September 2015
August 2015
July 2015
June 2015
May 2015
April 2015
March 2015
February 2015
January 2015
December 2014
November 2014
October 2014
September 2014
August 2014
July 2014
June 2014
May 2014
April 2014
March 2014
February 2014
January 2014
December 2013
November 2013
October 2013
September 2013
August 2013