03/30/2018 8:10 AM
-
The Monarchs have qualified for post-season play for the 16th time in franchise history, and will play their first home game of the North Division Finals on Sunday, May 6 (6 p.m.) at SNHU Arena.
Come be part of the 2018 Kelly Cup Playoffs, as the Monarchs look to bring home their second championship in the last four seasons!
Individual tickets will go on sale through Ticketmaster at a later date.
If you would like to lock in your seat for the entire playoff run, the Monarchs are offering a Pay As We Play promotion! The first two games of Round 1 will be charged upon committing, with each game thereafter charged once the game is confirmed to be played. To opt-in for Pay As We Play, please call the Monarchs Front Office at: 603-626-7825.
The full schedule for the North Division Finals will determined once the Adirondack Thunder-Worcester Railers series is completed.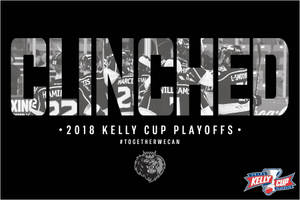 **Dates subject to change**
|
Back to index...
Browse by Year »
2018
2017
2016
2015
2014
2013
Browse by Month »
April 2018
March 2018
February 2018
January 2018
December 2017
November 2017
October 2017
September 2017
August 2017
July 2017
June 2017
May 2017
April 2017
March 2017
February 2017
January 2017
December 2016
November 2016
October 2016
September 2016
August 2016
July 2016
June 2016
May 2016
April 2016
March 2016
February 2016
January 2016
December 2015
November 2015
October 2015
September 2015
August 2015
July 2015
June 2015
May 2015
April 2015
March 2015
February 2015
January 2015
December 2014
November 2014
October 2014
September 2014
August 2014
July 2014
June 2014
May 2014
April 2014
March 2014
February 2014
January 2014
December 2013
November 2013
October 2013
September 2013
August 2013