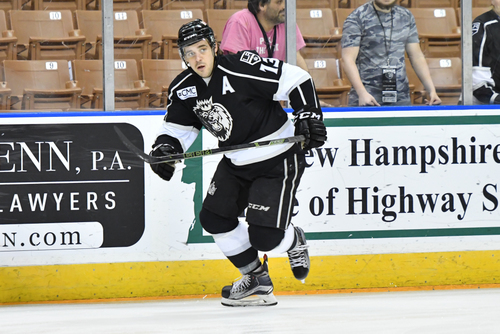 09/05/2018 2:31 PM
-
MANCHESTER, N.H. – Manchester Monarchs Head Coach and General Manager, Doug Christiansen, announced today that the Monarchs have re-signed Gasper Kopitar to a Standard Player Contract for the 2018-19 season.
The Monarchs are the ECHL affiliate of the National Hockey League's Los Angeles Kings.
Kopitar, 26, returns to Manchester for a fourth season after not appearing in a game for the Monarchs last season. In his previous two seasons with the Monarchs, Kopitar tallied 52 points on 16 goals and 36 assists, while skating in 99 games.
The 6-foot, 194-pound native of Jesenice, Slovenia, played two seasons for the Ontario Reign (ECHL) from 2013 to 2015 and followed the team to Manchester during the relocation. During his four seasons in the ECHL, Kopitar has played in 172 games and racked up 36 goals and 27 assists for 63 points.
Kopitar and the Monarchs open the season on the road against the Brampton Beast on Oct. 13, before returning home on Oct. 19 at 7 p.m. to face the Newfoundland Growlers. For tickets to Opening Night, Season Memberships and group tickets, please contact the Monarchs front office at 603-626-7825.
Visit us at ManchesterMonarchs.com, follow the team on Twitter and Instagram: @MonarchsHockey, and like us on Facebook for additional information.
-Monarchs-
When the Monarchs win, Manchester wins!
|
Back to index...
Browse by Year »
2018
2017
2016
2015
2014
2013
Browse by Month »
September 2018
August 2018
July 2018
June 2018
May 2018
April 2018
March 2018
February 2018
January 2018
December 2017
November 2017
October 2017
September 2017
August 2017
July 2017
June 2017
May 2017
April 2017
March 2017
February 2017
January 2017
December 2016
November 2016
October 2016
September 2016
August 2016
July 2016
June 2016
May 2016
April 2016
March 2016
February 2016
January 2016
December 2015
November 2015
October 2015
September 2015
August 2015
July 2015
June 2015
May 2015
April 2015
March 2015
February 2015
January 2015
December 2014
November 2014
October 2014
September 2014
August 2014
July 2014
June 2014
May 2014
April 2014
March 2014
February 2014
January 2014
December 2013
November 2013
October 2013
September 2013
August 2013