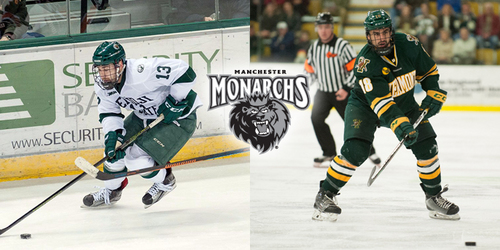 09/19/2016 10:55 AM
-
MANCHESTER, N.H. - Manchester Monarchs Head Coach and Director of Hockey Operations Rich Seeley announced that the team has signed Cory Ward and Alexx Privitera to Standard Player Contracts for the 2016-17 season, as well as Danila Alistratov and Dean Yakura to try-out agreements.
The Monarchs are the ECHL affiliate of the National Hockey League's Los Angeles Kings and the American Hockey League's Ontario Reign.
Ward, 22, signs with Manchester for his first full professional season after spending the majority of the 2015-16 season with Bimidji State University. With the Beavers, Ward scored 19 points on nine goals and 10 assists in his senior season, and finished his time at Bemidji with 80 points on 45 goals and 35 assists in 151 career games.
The 5-foot-11, 201-pound native of Las Vegas, Nev. played in eight games with the St. John's IceCaps (AHL) after the Bemidji season ended and recorded three assists. Before heading to campus, Ward played two seasons in the NAHL for the Aberdeen Wings where he scored 120 points on 67 goals and 53 assists in 113 games. Ward was named to the NAHL All-Rookie First Team in 2011, and was a member of the 2012 NAHL All-Central Division Team.
Privitera, 23, spent the 2015-16 season at the University of Vermont where he scored 42 points on 13 goals and 29 assists in 77 games over the course of two seasons. Privitera spent a year playing for the Dubuque Fighting Saints (USHL) after deciding to transfer to Vermont from Boston University. With the Fighting Saints, Privitera skated in 57 games and netted 44 points on 11 goals and 33 assists while wearing the "C". In two seasons playing for Boston University, Privitera logged 26 points on six goals and 20 assists in 48 games.
The 5-foot-11, 185-pound native of Old Tappan, N.J. was a member of the U.S. National Team that took home a gold medal in the 2010 World U17 Hockey Championship.
Alistratov, 25, spent the 2015-16 season with Yuzhny Ural Orsk of the VHL in Russia. In 34 games, Alistratov posted a 16-12-3 record, a 2.12 GAA and a 0.925 save percentage. Alistratov also recorded two shutouts over 1925:41 minutes.
The 5-foot-8, 159-pound native of Chelyabinsk, Russia has played professionally since 2009 with Lada Togliatti and Ariada Volzhsk of the VHL, Trakto Chelyabinsk and Vityaz Chekhov of the KHL and Belye Medvedi Chelyabinsk of the MHL.
Yakura, 31, played for the Danbury Titans of the FHL during the 2015-16 season. In Danbury, Yakura scored 81 points on 23 goals and 58 assists in 56 games. Yakura was named team captain in his first full season in Danbury.
The six-foot, 192- pound native of West Vancouver, British Columbia played collegiately at American International College and has 24 ECHL games under his belt after playing for the Idaho Steelheads and Cincinnati Cyclones.
Ward, Privitera, Alistratov, Yakura and the Monarchs open the 2016-17 regular season Oct. 14 (7 p.m.), when they host the Adirondack Thunder for the first of two games on Opening Weekend.
Season ticket packages to see the Monarchs begin their quest for the Kelly Cup are on sale now! Call the Monarchs front office at 603-626-7825 or click here for more information to reserve your seat today!
-Monarchs-
|
Back to index...
Browse by Year »
2018
2017
2016
2015
2014
2013
Browse by Month »
July 2018
June 2018
May 2018
April 2018
March 2018
February 2018
January 2018
December 2017
November 2017
October 2017
September 2017
August 2017
July 2017
June 2017
May 2017
April 2017
March 2017
February 2017
January 2017
December 2016
November 2016
October 2016
September 2016
August 2016
July 2016
June 2016
May 2016
April 2016
March 2016
February 2016
January 2016
December 2015
November 2015
October 2015
September 2015
August 2015
July 2015
June 2015
May 2015
April 2015
March 2015
February 2015
January 2015
December 2014
November 2014
October 2014
September 2014
August 2014
July 2014
June 2014
May 2014
April 2014
March 2014
February 2014
January 2014
December 2013
November 2013
October 2013
September 2013
August 2013